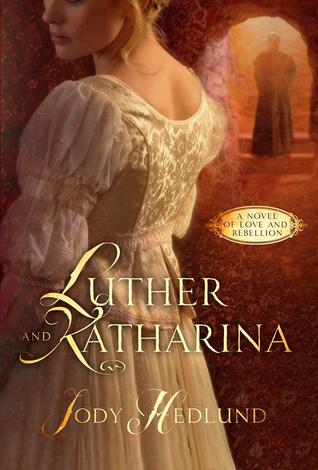 About the Book
Katharina von Bora has seen nothing but the inside of cloister walls since she was five. In a daring escape, Katharina finds refuge with Martin Luther and seeks his help to pair her with the noble, wealthy husband she desires.

As class tensions and religious conflicts escalate toward the brink of war, Martin Luther believes that each day could be his last and determines he will never take a wife.

As the horrors of the bloody Peasant War break out around them, the proud Katharina and headstrong Martin Luther fight their own battle for true love, in one of the greatest love stories of history. (Goodreads)
My Thoughts
This book was so much better than I anticipated! I love Jody Hedlund, but this time period and setting is not my favorite to read. BUT she wrote this story in such a way that made it so interesting and historical, I really couldn't put it down. This is a great story of real life in 1523 and all of the events and issues going on at that time. At the end of the book I was happy to read that the majority of the storyline is fact and really happened. Luther and Katharina are such unique characters and real. They both have faults and I love that it wasn't easy to fall in love or instant. I also like that the Bible is presented many times. Reading it in this time period made me realize, the Bible hasn't changed, they had many of the same words we do today.
The romance is sweet and a large portion of the book is about their relationship, the good and bad. This is definitely a romance so don't pick this book up expecting otherwise, there is nothing detailed but lots of kissing.
I loved every aspect and Hedlunds' writing has a way of capturing your attention until the end. I have yet to read a book by her I haven't loved.
Look for this book in stores October 6, 2015!!
"I received this book from Blogging for Books for free in exchange for an honest review."