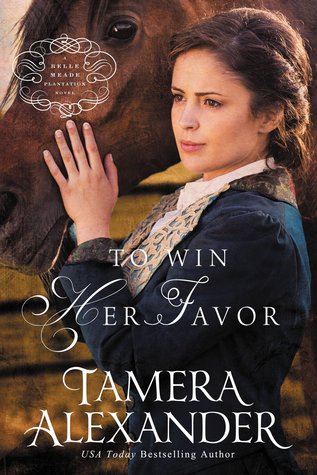 About the Book
A gifted rider in a world where ladies never race, Maggie Linden is determined that her horse will become a champion. But the one man who can help her has vowed to stay away from thoroughbred racing for good.

An Irish-born son far from home, Cullen McGrath left a once prosperous life in England because of a horse racing scandal that nearly ruined him. He's come to Nashville for a fresh start, hoping to buy land and start a farm, all while determined to stay as far away from thoroughbred racing as possible. But starting over proves harder than he'd wagered, especially when Maggie Linden's father makes him an offer he shouldn't accept yet cannot possibly refuse.

Maggie is certain that her mare, Bourbon Belle, can take the top purse in the annual Drayton Stakes at Nashville's racetrack––the richest race run in America. Maggie only needs the chance to prove it. To give her that chance, and to save Linden Downs from being sold to the highest bidder, Maggie's father––aging, yet wily as ever––makes a barter. His agreement includes one tiny, troublesome detail––Maggie must marry a man she's never met. A man she never would have chosen for herself.

Cullen and Maggie need each other in order to achieve their dreams. But their stubborn, wounded hearts––and the escalating violence from a "secret society" responsible for lynchings and midnight raids––may prove too much for even two determined souls. (Goodreads)
My Review
I am intrigued by this book and the one before it because we were able to visit Belle Meade! I love being able to visualize the setting so it makes this book more entertaining. So I love the setting but to be honest it was a bit slow for me and hard to get into. Maggie's character about drove me crazy but it was good to see her grow throughout the story. I liked Cullen's character he seemed like the strong honest person who really wanted what was best for Maggie. The horse history and setting history was very interesting so if you like history this is a compelling read.
I wish I could say I loved this book, it was just ok because it was slow but I know many others will love it.
Four stars.
"I received this book from Litfuse for free in exchange for an honest review."
Can Maggie prove that her mare, Bourbon Belle, can take the top purse in the inaugural Peyton Stakes, the richest race ever run in America? Find out in Tamera Alexander's To Win Her Favor.
To give her that chance—and to save Linden Downs from being sold to the highest bidder—Maggie must marry a man she's never met. A man she never would have chosen for herself.
Celebrate the release of To Win Her Favor with a Kindle Fire and book giveaway!
One grand prize winner will receive:
A Kindle Fire HD 6
A copy of To Win Her Favor
Enter today by clicking the icon below. But hurry, the giveaway ends on May 10th.
Winner will be announced May 11th on
Tamera's blog
. Plus stay tuned for more opportunities to win after May 11 with a special Pinterest contest—more details coming soon!