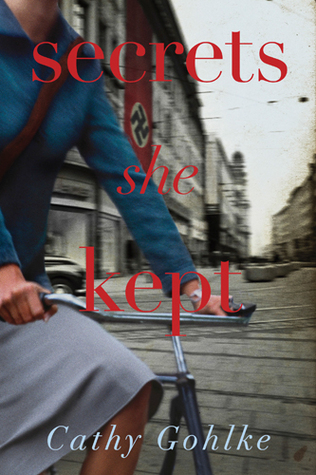 About the Book
The secret a mother was forbidden to share . . . the consequences a daughter could not redeem—but will risk everything in her attempt.

All her life, Hannah Sterling longed for a close relationship with her estranged mother. Following Lieselotte's death, Hannah unlocks secrets of her mother's mysterious past, including the discovery of a grandfather living in Germany.

Thirty years earlier, Lieselotte's father, ascending the ranks of the Nazi party, demands a marriage for his daughter to help advance his career. But Lieselotte is in love—and her beloved Lukas secretly works against the Reich. How far will her father go to achieve his goal?

Both Hannah's and Lieselotte's stories unfold as Hannah travels to Germany to meet her grandfather, who hides wartime secrets of his own. Longing for connection, yet shaken by all she uncovers, Hannah must decide if she can atone for her family's tragic past, and how their legacy will shape her future. (Goodreads)
My Review
There is always that author who I anxiously wait for to see what is written next. Cathy has written some of my all time favorite novels and this one now goes in that category. I loved this book, I couldn't put it down it was so good. It's heart wrenching and real and captivated me imagination until the end. I loved the characters present and historical and the setting and storyline is wonderfully written. I have read many books set during WWII but this story has a new angle on those who tricked Jewish people into getting them captured. The lies and the holocaust and the family dynamics are all combined in this novel and present and past collide in ways that I wasn't expecting.
One of the best books I have read this year.
"I received a copy of this book from Tyndale Publishing for free in exchange for an honest review."