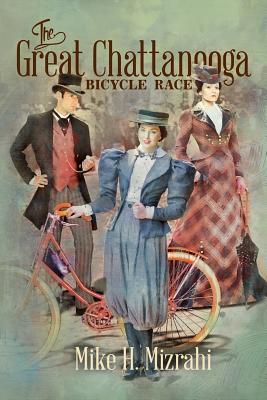 Chattanooga society is turned upside down as a young woman has the audacity to ride a bicycle--in bloomers!

It's 1895. Anna Gaines, 19, struggles to conquer her insecurities after a horrible fall years ago from her beloved horse, Longstreet. On a visit with her aunt in Brooklyn, she's drawn to the new pastime of bicycling. But back at home, cycling is a scandalous sport for a proper lady. Southern women did not engage in activities meant for men.

Anna has her eye on Peter Sawyer, president of the Cycling Club. As community outrage grows, an unexpected turn of events pits Anna against Peter in a race between the sexes.


Will Anna prove that women deserve the same right as men to ride "the wheel?" Will she choose to live a quiet, traditional life of a housewife and mother? Or will she pursue college and become one of the "new women" emerging into the twentieth century on the seat of a bicycle? What will become of the spark between Anna and Peter? Faith, patience, and courage help Anna to become the person she was meant to be. (Goodreads)
My Thoughts
I really enjoyed the overall idea for this book. I liked all of the history and how it showed how so many things were changing during this time. It is difficult for us to understand life so many years ago but I think the author made it intriguing. That being said this was extremely difficult for me to get into. The characters didn't click with me and the dialogue seemed forced at times. I know others have loved this book it just simply wasn't for me.

Three stars.

"I received this book from Litfuse for free. All opinions are my own."
Take a ride through 1895 Chattanooga as it's turned upside down when a young woman has the audacity to ride a bicycle–in bloomers—in Mike H. Mizrahi's new book, The Great Chattanooga Bicycle Race!
Anna Gaines, 19, struggles to conquer her insecurities after a horrible fall years ago from her beloved horse, Longstreet. On a visit to Brooklyn, she's drawn to the new pastime of bicycling. But back at home, cycling is a scandalous sport for a proper lady. Anna has her eye on Peter Sawyer, president of the Cycling Club. As community outrage grows, an unexpected turn of events pits Anna against Peter in a race between the sexes.
Celebrate the release of Mike's new book by entering to win his $75 Amazon gift card giveaway!
One grand prize winner will receive:
A copy of The Great Chattanooga Bicycle Race
A $75 Amazon gift card
Enter today by clicking the banner below, but hurry! The giveaway ends on June 14.
The winner will be announced June 15 on
Mike's blog
.