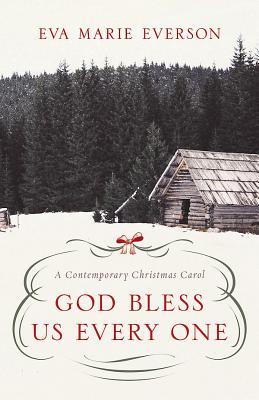 Charlene Dixon--called Charlie by family and friends--is devastated at the recent loss of her job. For the last five years, the twenty-seven-year-old has blossomed as the activities director of an exclusive all-girls school. But when a misunderstanding with the head-mistress leads to a pink slip right before the holidays, Charlie packs up dreams and returns to Grandma Esther, who raised Charlie as her own.

When Charlie arrives--broken and confused--Esther immediately puts her granddaughter to work behind the scenes of the local school's Christmas play, A Christmas Carol. When Charlie disapproves of having to work with Dustin Kennedy, the seventh-grade English teacher, Grandma Esther encourages her to take a deeper look at why the book by Charles Dickens had been written in the first place and what the book could teach Charlie about the needs of the children in their own community. (Goodreads)
About the author:
Eva Marie Everson is an award-winning speaker and author of The Road to Testament, Things Left Unspoken, This Fine Life, Chasing Sunsets, Waiting for Sunrise, Slow Moon Rising, and The Potluck Club series (with Linda Evans Shepherd). She is the president of Word Weavers International, Inc., a member of AWSA, ACFW, RWA, the director of Florida Christian Writer's Conference, and the contest director for Blue Ridge Mountain Christian Writer's Conference. She and her husband make their home in Casselberry, Florida.
My Thoughts
I LOVE books set during the winter holidays. It makes read the book feel all the more cozy and fun and doesn't this cover make you giddy?! I totally chose this book to read based on the cover, it is one that I want faced out on my bookshelf. Anyway, aside from the cover this story is wonderful. I was totally surprised at how well the characters were written. There is a lot of depth that makes this book a treasure because the themes that run through the pages are heart wrenching and true. Charlie does not have a relationship with her father and Dustin has a sad past. The author decides to throw in Charles Dickens and you have a winner.
I could relate to Charlie's story in a way and the only that bugged me was that some parts at the end and those dealing with her dad were too easy. It's not a major issue because this is a short book but I think perhaps a couple of scenes could have been different.
Otherwise this is a beautiful book and one to add to your holiday book list!
"I received this book from Litfuse for free in exchange for an honest review."