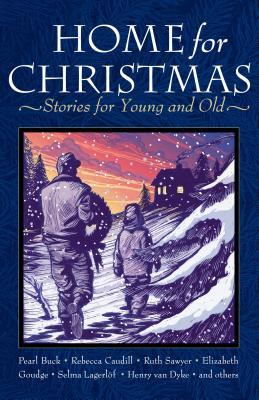 About the Book
For readers who are tired of Christmas commercialism, or who feel that Santa Claus and reindeer don t tell the whole story, these classic gems provide a winning alternative. Selected for their insightfulness, spiritual value, and literary quality (nothing moralistic here) they project the spirit of the season in a fresh, compelling manner that will resonate with readers of all ages from children too young to read to themselves, to parents and grandparents who enjoy reading stories aloud. Home for Christmas includes time-tested favorites by some of the world s most beloved children s authors Pearl Buck, Selma Lagerlof, Henry van Dyke, Madeleine L Engle, Elizabeth Goudge, Rebecca Caudill, and Ruth Sawyer as well as little-known European stories appearing in English for the first time." (Goodreads)
My Review
What a unique collection of Christmas stories! I wasn't sure what to expect but I hadn't read or heard any of these stories until this book. Some of them are better than others as there are quite a few authors. I really enjoyed Christmas Day in the Morning by Pearl S. Buck, No Room in the Inn by Katherine Paterson, The Christmas Lie, and A Certain Small Shepherd by Rebecca Caudill.
Each story is different and takes you to a new place and time. Some of them are a bit slow and took me awhile to read. With books like this I can't just sit and read because there are too many stories. So I spread it out and read about one or two a day which is fun during the holiday season anyway.
For a new take on Christmas stories this is a great read.
Four Stars.
"I received this book from the publisher and Handlebar for free in exchange for an honest review."