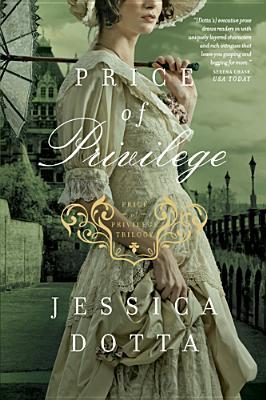 About the Book

Having finally discovered the truth of her birthright, Julia Elliston is determined to outwit Chance Macy at his own game. Holding a secret he'd kill to keep, however, is proving more difficult than she imagined.Just when Julia thinks she's managed to untangle herself from Macy's clutches, he changes tactics with a risky ploy. As the scandal of the century breaks loose, drawing rooms all over London whisper what so far newspapers have not dared to print: Macy's lost bride is none other than Lord Pierson's daughter--and one of the most controversial cases of marital law ever seen comes before Victorian courts.Though Julia knows Macy's version of events is another masterful manipulation, public opinion is swaying in his favor. Caught in a web of deceit and lies, armed only with a fledgling faith, Julia must face her fiercest trial yet. (Goodreads)
My Review
I have mixed feelings with this book. I have really enjoyed this series because it's so unique and the story line is complicated and deep with characters. The first book remains my favorite but this final book leaves me unsettled. This final book takes you into the climax of Mr. Macy vs. Julia and you know everything bad will happen before anything good. The manipulation and politics within the pages made it a tedious read but I couldn't put it down. With all of Jessica's' books I have been engrossed with the story line I just feel like the ending could have been a little different for this trilogy. In any case, this series is splendid and wonderfully written! The history and details from society and expectations for this time period are astounding. There is black mail, murder, romance, and an incredible faith in God to withstand it all.
Great read highly recommend!
"I received this book from Tyndale for free in exchange for an honest review."