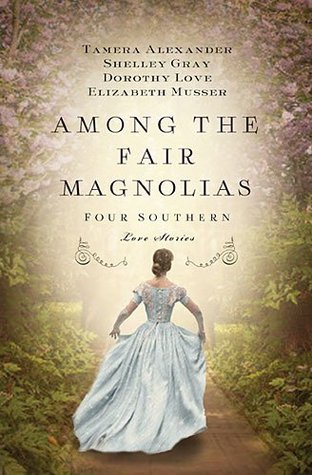 Four Southern women are at a turning point in history . . . and in their own hearts.

To Mend a Dream by Tamera Alexander

The Civil War cost Savannah Darby everything—her family and her home. When Aidan Bedford, an attorney from Boston, buys the Darby estate, he hires Savannah to redecorate. Can she find a mysterious treasure before her job is finished?

An Outlaw's Heart by Shelley Gray

When Russell Stark returns to Fort Worth, he's determined to begin a new life. But when he arrives at his mother's homestead, he discovers that she is very ill and the woman he loved is still as beautiful and sweet as he remembered. With time running out, Russell must come to terms with both his future and his past.

A Heart So True by Dorothy Love

Abigail knows all too well what is expected of her: to marry her distant cousin Charles and take her place in society. But her heart belongs to another. A terrible incident forces Abby to choose between love and duty.

Love Beyond Limits by Elizabeth Musser

Emily has a secret: She's in love with one of the freedmen on her family's plantation. Meanwhile, another man declares his love for her. Emily realizes some things are not as they seem and secrets must be kept in order to keep those she loves safe. (Goodreads)
I never know how good a collection of novellas will end up. I've read some great collections, and I've read some really bad ones. This book lands right in the middle for me. I love the cover and have read these authors before. I think my favorite two stories are An Outlaws Heart by Shelley Gray and To Mend a Dream by Tamera Alexander. The other two were okay just not as intriguing. It's hard to get an entire storyline in just a few chapters, let alone get to know a character. I think Shelley and Tamera did the best job on creating characters and getting the reader to really be in the story.
I also like that they are all set somewhere different just with southern flair.
I think this is a great collection if you want a short southern romance.
"I received this book from Litfuse for free in exchange for an honest review."
Purchase a copy:
http://bit.ly/1Igkc7H
About the authors:

Tamera Alexander
is the best-selling author of numerous books including
A Lasting Impression
and
The Inheritance
. Tamera is a two-time Christy Award winner, two-time RITA winner, and a recipient of the prestigious Library Journal Award. A native of west Tennessee.
website
,
Twitter
,
Facebook
Dorothy Love
makes her home in the Texas hill country with her husband and their golden retriever. An award-winning author of numerous young adult novels, Dorothy made her adult debut with the Hickory Ridge novels.
website
,
Twitter
,
Facebook
Shelley Gray
is the author of The Heart of a Hero series. Her Amish novel (written as Shelley Shepard Gray),
The Protector,
recently made the New York Times best seller list.
website
,
Twitter
,
Facebook
Elizabeth Musser
, a native of Atlanta, Georgia now living in France, is a novelist who writes what she calls 'entertainment with a soul.' For over 25 years, Elizabeth and her husband, Paul, have been involved in mission work with International Teams.
website
,
Twitter
,
Facebook
Four best-selling novelists bring tales of four Southern women who face near impossible choices on their journeys in life and in love during the most turbulent decade of our nation's history in Among the Fair Magnolias.
Don't miss this collection of stories from Tamera Alexander, Shelley Gray, Dorothy Love, and Elizabeth Musser.
Join the authors in celebrating the release of Among the Fair Magnolias by entering to win their Southern Hearts Kindle Fire Giveaway and RSVPing to their August 13th author chat party!
One grand prize winner will receive:
A Kindle Fire HD 6
One copy of Among the Fair Magnolias
Enter today by clicking the icon below. But hurry, the giveaway ends on 8/13.
The winner will be announced at the
Among the Fair Magnolias Facebook party
. RSVP for a chance to connect with Tamera, Dorothy, Shelley, and Elizabeth, as well as for a chance to win some great prizes!
RSVP today and spread the word—tell your friends about the giveaway via FACEBOOK, TWITTER, or PINTEREST and increase your chances of winning. Hope to see you on the 13th!