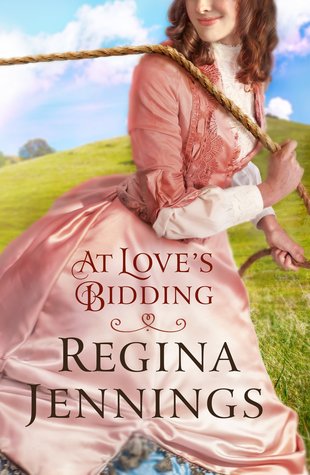 About the Book
After helping her grandfather at their Boston auction house, Miranda Wimplegate discovers she's accidentally sold a powerful family's prized portrait to an anonymous bidder. Desperate to appease the furious family, her grandfather tracks it to the Missouri Ozarks and makes an outlandish offer to buy the local auction house if they promise not to sell anything until he arrives.

Upon their arrival, however, they discover their new business doesn't deal in fine antiques, but in livestock. And its manager, ruggedly handsome Wyatt Ballentine, is frustrated to discover his fussy new bosses don't know a thing about the business he's single-handedly kept afloat. Faced with more cattle than they can count--but no mysterious painting--Miranda and Wyatt form an unlikely but charged partnership to try and salvage a bad situation getting worse. (Goodreads)
My Thoughts

I really wasn't sure what to expect with this book. I really enjoyed Regina's earlier books but lately they all seem to blend together. The silliness is a bit over the top for me and the romance with this particular book is not my favorite and didn't really capture my attention. There are some funny moments and a few great lines but overall this was a difficult book for me to get into and finish.
If you enjoy Jennings' books I'm sure you will like this one, it just wasn't for me.

"I received this book from Litfuse for free in exchange for an honest review."
After a cross-country trip to track down a sold painting that could ruin her family's business forever, Miranda Wimplegate forms an unlikely but charged partnership with livestock auctioneer Wyatt Ballentine in Regina Jennings' At Love's Bidding.
Miranda and her grandfather discover their new auction house doesn't deal in fine antiques, but in livestock. And its frustratingly handsome manager, Wyatt, is annoyed to discover his fussy new bosses don't know a thing about the business he's single-handedly kept afloat. Faced with more heads of cattle than they can count–but no mysterious painting–Miranda and Wyatt must try and prevent a bad situation from getting worse.
One grand prize winner will receive everything you need for a cozy winter night:
Enter today by clicking the icon below. But hurry, the giveaway ends on 1/5.
The winner will be announced at the
At Love's Bidding Facebook party
. RSVP for a chance to connect with Regina and other readers, as well as for a chance to win some great prizes!
RSVP today and spread the word—tell your friends about the giveaway via FACEBOOK, TWITTER, or PINTEREST and increase your chances of winning. Hope to see you on the 5th!